Absolute Carbon Fibre Chambers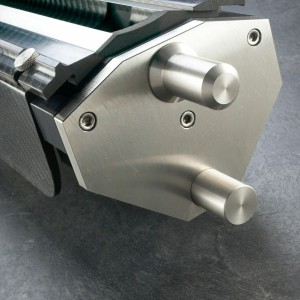 "We are committed to establishing Absolute as your preferred partner if you wish to improve your flexo ink circuit.

If you're planning a new development, have a good idea you wish to pursue, or simply want to improve your flexo capabilities, please come and talk to us!

We want to help you make your vision a reality."
Absolute 2G Carbon Fibre Chamber
Incorporated into the world's most productive flexo printers, the Absolute 2G chamber is the original woven carbon fiber dual-blade system for all flexo applications.
Absolute also offer the widest range of chamber conversions (from 4"/100mm to 220"/5,600mm), and, with our fastest systems running at 3,000fpm/1,000mpm, you can be sure our installation archive can produce a perfect match for your requirements.
A CHAMBER PROFILE TO SUIT YOUR SPECIFIC ANILOX
No other company produces such a full spectrum of chamber profiles to suit your individual anilox diameter and face. So whatever your specifications, you can trust Absolute to provide the best solution.
And Absolute is unique in tailoring our design to the optimum doctoring angle, creating the perfect wipe and color reproduction for your needs.
SAFETY
Because Absolute chambers are significantly lighter than traditional aluminium, they can safely be lifted by a single operator.
A 96"/2,400mm-wide Absolute chamber weighs 35lbs/16kg, while a 64"/1,657mm Absolute chamber weighs 19lbs/9kg – 65% less than their aluminium equivalent.
RAPID BLADE CHANGE
Your print unit downtime can be greatly reduced with Absolute's tool-free blade clamp which allows a single operator to change blades on a 108"/2750mm chamber in 4 minutes.
Absolute Uniblade Carbon Fibre Chamber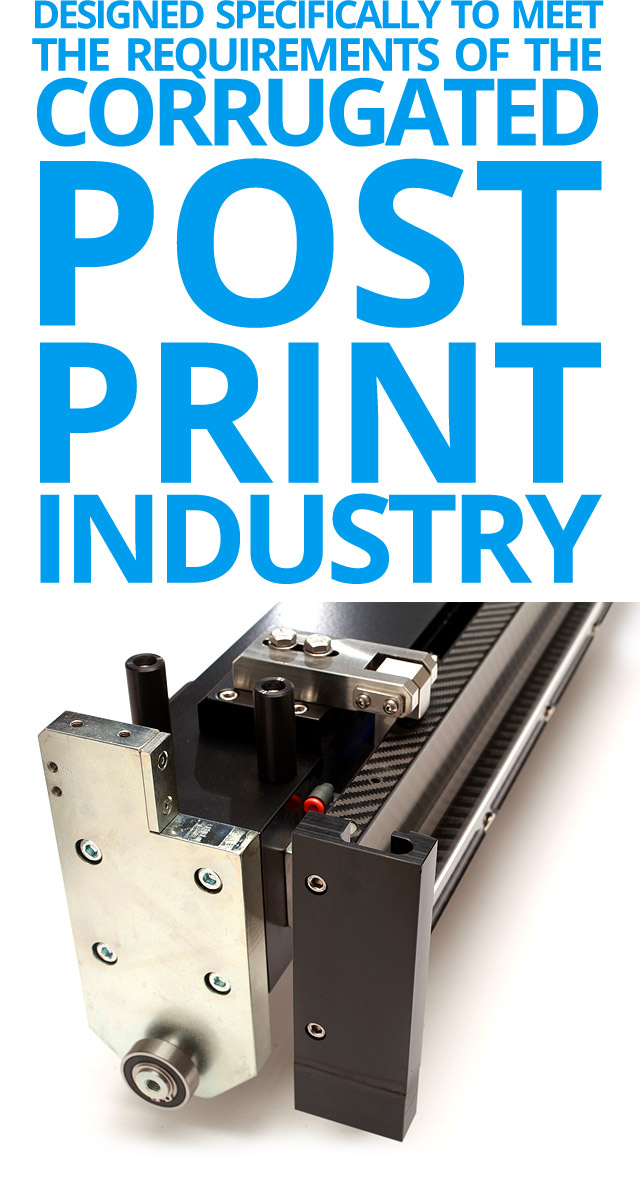 Made from woven carbon fiber, Absolute's UniBlade single wiper system guarantees consistent color tone across the width and speed range.
Maintenance free, simple to use, and the perfect upgrade to improve print quality, UniBlade also reduces ink usage and minimises job change.
NO CORROSION GUARANTEED & CREDIBLE
Absolute guarantee our UniBlade against corrosion for 15 years, an offer we can make with utmost confidence – we have never had a unit returned in 15 years!
MINIMISE DOWNTIME
With UniBlade you can change the blade of a 94"/2,400mm unit in just 3 minutes. And it takes only 12 minutes to change a whole 4 color flexo. That can save you a lot of downtime!
NON-TWIST OR WARP
Due to fluctuating and extreme temperatures, plastic-moulded products such as nylon and UHMW age over time, resulting in bowing, twisting and warping of the structure. Aluminium extrusions also experience warp, as it is impossible to alleviate stress after the final machining process.
This stress eventually causes the material to twist, making it impossible to produce an even wipe across the anilox. Consequently, product rejection is massively increased with inevitable delays.
By comparison, woven carbon fiber is unaffected by variations or extremes in temperature; consistent doctoring is maintained regardless of the harsh environment in which the unit operates.
About Absolute
Established in 2000, Absolute have since gained a formidable reputation as the world's premier supplier of woven carbon fiber-chambered doctor blade systems to the flexo industry.
Today, 5,000 installations later, we continue leading the field with unique solutions, tailored to your needs.
Our UK facility incorporates all processes of equipment – from market research and design to manufacture and customer care. Absolute is the full package:
DESIGN AND DEVELOPMENT:

By using the most advanced 3D Inventor design systems, we co-ordinate complex designs with other equipment suppliers to produce seamless integration for our customers.

LEADING EDGE TECHNOLOGY:

Milling and routing of carbon fiber components is achieved using the latest 5 axis machining centres, ensuring high accuracy for complex machining paths. As an Absolute customer, your requirements are unique, and so are our bespoke solutions.

HIGHLY TRAINED FULLY QUALIFIED        ENGINEERS:

Specially trained to optimum standards, our engineers assemble and test all equipment prior to shipment, ensuring a smooth installation every time.

EXPERIENCED EXPORT OFFICE:

With exports accounting for 85% of turnover, our team have vast knowledge and        experience in shipping our systems across the globe. Reliable deliveries arrive complete with the required documentation to virtually any location.

SERVICE SPECIALISTS LOCATED AROUND THE WORLD:

Absolute have specialised teams throughout the world, ready to provide top quality service wherever you may operate.  Having a technician on the spot ensures fast, efficient service for both new and existing installations right across the globe.

SPARES CENTRES IN BOTH NORTH AMERICA AND EUROPE:

A wide range of components are available in both North America and Europe, offering rapid delivery, avoiding downtimes and keeping your lines working smoothly, economically and with optimum efficiency.
Working closely with the world-leading machinery manufacturers, we supply to the biggest customers in the corrugated, tissue and flexible packaging sectors.
Absolute are also active members of the recognised trade bodies, working hard to improve both the quality and technology of flexo solutions.
Part of Pamarco since August 2013, Absolute has invested significantly in equipment, staff and resources to grow the business even more effectively and provide the best possible service to you, our customer.